What You Get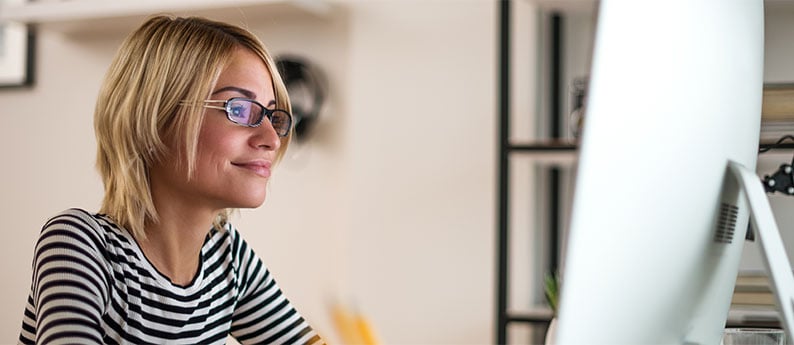 Everything Included – You Are Ready To Learn!
You will receive everything necessary to complete your program, including software, textbooks, unlimited support, and online services. Each course's tuition is all-inclusive and there are no hidden fees – you receive everything below.
Online Services
Our student website gives you access to everything necessary for successful graduation, including:
Online tests for easy access
Proprietary video tutorials
Assignment upload for email-free file transfer
Live chat and static forums for student and instructor interaction
A report card to follow your progress
A tech centre for resolving computer issues
File downloads for lessons
Career services resources
A Resource library
Proprietary lessons prepared by our instructors, and
Unlimited access to the students' centre 24/7

Student Orientation
Upon acceptance and before your start date arrives, you will be given immediate access to our pre-study orientation course. This course covers the following topics:
Introduction to the Centre for Distance Education
Once you've completed all activities to facilitate full enrollment, this topic will engage you in informational activities to help you know more about the school.
How to Be a Successful Student
Adult education can be a tricky thing, especially if you've been out of school for a little while. Online education can be new even if you just recently graduated. The resources and activities this section will help you find yourself more than ready to greet your first course assignments.
How to Live a Successful Life
School isn't everything, but it can affect everything. This topic includes information to maintain a healthy mind, body and spirit, decision making, becoming a critical thinker, and more – to help you be the best you possible throughout your college days and beyond.
Career Services
Upon your official start date, you'll gain access to the full career services program; at this beginning point, you'll take a look at your goals and expectations and make sure you're on the right track to reach those goals successfully.
Software
You will receive, registered in your name, all of the educationally licensed software required for your chosen program.
Depending on your program, this can include the latest versions of:
Adobe Creative Suite including: Photoshop, Illustrator, InDesign, Flash, and/or Dreamweaver
Autodesk 3ds Max
Microsoft Office including: Word, Excel, Access, and/or PowerPoint
Windows or Mac OS
Simply Accounting
Course Materials
You will receive all of the textbooks and software required to complete your program. In addition, your student website will provide:
the school's policies and regulations,
a startup guide,
all course outlines and assignments,
a submission schedule to keep you on track, and
a study guide written especially for distance education students.

Student Services & Learning System
CD-ED uses a Learning Management System that allows a complete online education experience. You'll be given a web address and login information that brings you to a webpage which includes everything you'll need.
Click to learn more about our Learning Management System »
Is Online Learning a Good Fit? Get More Info…
If you're interested in learning more about Online Distance Education and exploring if this is the right path for you, fill out the form on this page to receive more information or take our online training readiness quiz!
A helpful CD-ED Admissions Representative can assist you with everything from career questions to funding options and help you discover the perfect career path for you.
For immediate questions, give us a call at 1-866-446-5898