Get the Skills to Be an Accounting Professional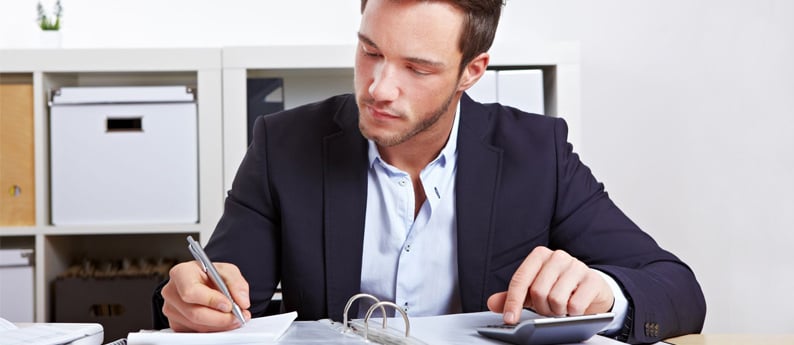 Take Accounting Courses Online in Our 52-Week Accounting Technician Program
Modern businesses rely on the bookkeeping and financial management support of skilled accounting professionals.
A keen eye for detail, organizational skills and a solid background in accounting principles can make you highly attractive to employers.
If you enjoy working with numbers and are ready to get into a rewarding professional career (without putting your whole life on hold), our online accounting course could be an excellent option.
Applicants to this program must have a high school diploma or GED. If you do not have your high school diploma or GED, click here for more information on resources in your province.
Become a Qualified Accounting Technician with Accounting Courses Online
The Online Accounting Technician program from Centre for Distance Education (CD-ED) provides the technical skills, relevant experience and ongoing support it takes to pursue a rewarding accounting career, with the convenience and flexibility of online training.
The program is led by knowledgeable accounting professionals with years of experience working in the field. As a student, you get the up-to-date skills modern employers look for through a blend of tutorials, step-by-step assignments and hands-on application. Areas covered include:
Business College Math
Microsoft Word Introductory
Microsoft Excel for Bookkeeping
Manual Accounting
Simply Accounting
Payroll
Accounting Practice
Career Skills & OHS
Keyboarding (Concurrent)
Each subject is covered in a variety of ways to ensure you relate to the material, no matter your learning style. Learn your way, in the comfort of your own home.

Graduates of this program feel confident and fully prepared to take on the challenges of a rewarding career in accounting.
Accounting Technician Program Curriculum
20 hrs/wk, 52 Weeks, 1040 Hours
| | | | |
| --- | --- | --- | --- |
| Weeks | Hours | Code | Course Subject |
| 1-6 | 114 | MAT 104 | Business College Math |
| 7-8 | 38 | COC 110 | Microsoft Word Introductory |
| 9-14 | 114 | MAT 107 | Microsoft Excel for Bookkeeping |
| 15-26 | 228 | MAT 203 | Manual Accounting |
| 27-41 | 285 | MAT 210 | Simply Accounting |
| 42-47 | 114 | MAT 211 | Payroll |
| 48-49 | 38 | MAT 212 | Accounting Practice |
| 50-52 | 57 | ENG 108 | Career Skills & OHS |
| 1-52 | 52 | COC 105 | Keyboarding (Concurrent) |
The best way to see if the Centre for Distance Education is right for you is to contact an admissions representative. Get more information about career opportunities, our programs, and financial aid options. Get more info now >>
Required For Enrollment: All applicants must have a high school diploma or equivalent prior to enrollment. For any questions about eligibility, please call 1-866-446-5898 to speak with a knowledgeable CD-ED Admissions Representative.
The door opened to me, and great opportunities followed when I finished my studies and got my Accounting Technician Diploma. I have no regret choosing CD-ED. I believe that being a graduate of the school added spice to my resume and my qualifications. The school built my confidence, and that confidence lead to success in my career. I easily got a job related to accounting after I graduated.
Real-World Skills
In addition to theoretical knowledge, this program also includes a real-world practical course where you will simulate working in an accounting department. You'll have a chance to complete a full one-month accounting cycle. You'll feel confident moving into professional bookkeeping, payroll and accounting positions after getting so much relevant experience during your online accounting classes.
Program Length
The online accounting and bookkeeping course is completed in 52 weeks.
Career Opportunities
Accounting Technicians maintain complete sets of books, keep records of accounts, verify the procedures used for recording financial transactions, and provide personal bookkeeping services. As a professional in this field you may be employed throughout the private and public sector. Successful graduates may find work in a variety of positions, including:
Accounting Technician
Bookkeeper
Bookkeeping Clerk
Financial Officer
Administrative Assistant
Office Clerk
Receptionist
Some experienced Accounting Technicians choose to be self-employed.

How Does Taking Accounting and Bookkeeping Courses Online for Career Training Work?
With CD-ED's online education, you'll train from the comfort of home, but you're FAR from on your own. The experienced CD-ED instructors and student services take a personal interest in each student's progress. You'll have one-on-one support via email, chat, online classroom, webinars and toll-free phone calls.
Convenient Online Learning Platform
Instructor Support
Online Resources on the school website are always available
Industry Software & Materials
But online learning isn't right for everyone.
Distance Education requires discipline and time management skills. You will be required to devote 20 hours per week to your program in order to graduate.
Individuals in this field must become efficient with accounting principles and be comfortable working with computers and other modern office technology. If you've struggled with school in the past or are unsure of your abilities, talk to a friendly and experienced CD-ED Admissions Representative.
Your success is our priority. We'll help you determine if online Accounting Technician career training is right for you.
Paying For School: Get Support to Turn Your Career Goals into Reality
CD-ED programs qualify for student financial aid at the government level – not to mention the many other avenues you can pursue as a CD-ED student. The friendly and experienced Financial Planners at CD-ED will work with you to explore your personal options and help you find a finance program that's right for you.
Get the Support it Takes to Launch a Successful Career
We know accounting training is about more than a diploma to hang on the wall – it's about getting a rewarding career you care about. At CD-ED, we're dedicated to supporting you throughout your career. We offer expertise and support through our Career Services Expert to help you continually achieve your career goals.
Is Online Accounting Technician Training Right for You? Get More Info…
If you're interested in learning more about a career as an Accounting Technician and to explore whether online distance education is right for you, fill out the form on this page to receive more information or take our online training readiness quiz!
A helpful CD-ED Admissions Representative will be happy to answer any questions and can help with everything from career paths to financial aid.
For immediate questions, give us a call at 1-866-446-5898