How Online Training Works at CD-ED
Unlimited Online Access & a Vibrant Community of Peers and Instructors Dedicated to Your Success
CD-ED uses a customized Learning Management System (LMS) that allows a complete education experience through online courses with all the features you'd expect. You'll be given access to a meticulously prepared, clear and efficient student website that guides you through your education from start to finish.
The LMS is here to help you succeed. It is designed to remove any barriers that might delay your success. It gives you 24/7 access to your learning resources, submission deadlines, completion status, instructor feedback, and grades.
Our proprietary system helps you to:
Stay focused, motivated, and on track
A quick view of this week's assignments and resources, you won't waste any of your precious time wondering what's next or looking for the correct resources – we've laid it all out for you,
Understand exactly what to do and how to do it
Everybody has a different learning style. We have therefore developed a comprehensive yet simplified system for ensuring that each learning style is accommodated throughout your program
Connect with staff and other students
Students and staff can use our online messaging system and internal discussion forums to talk together about programs, careers, and everyday life.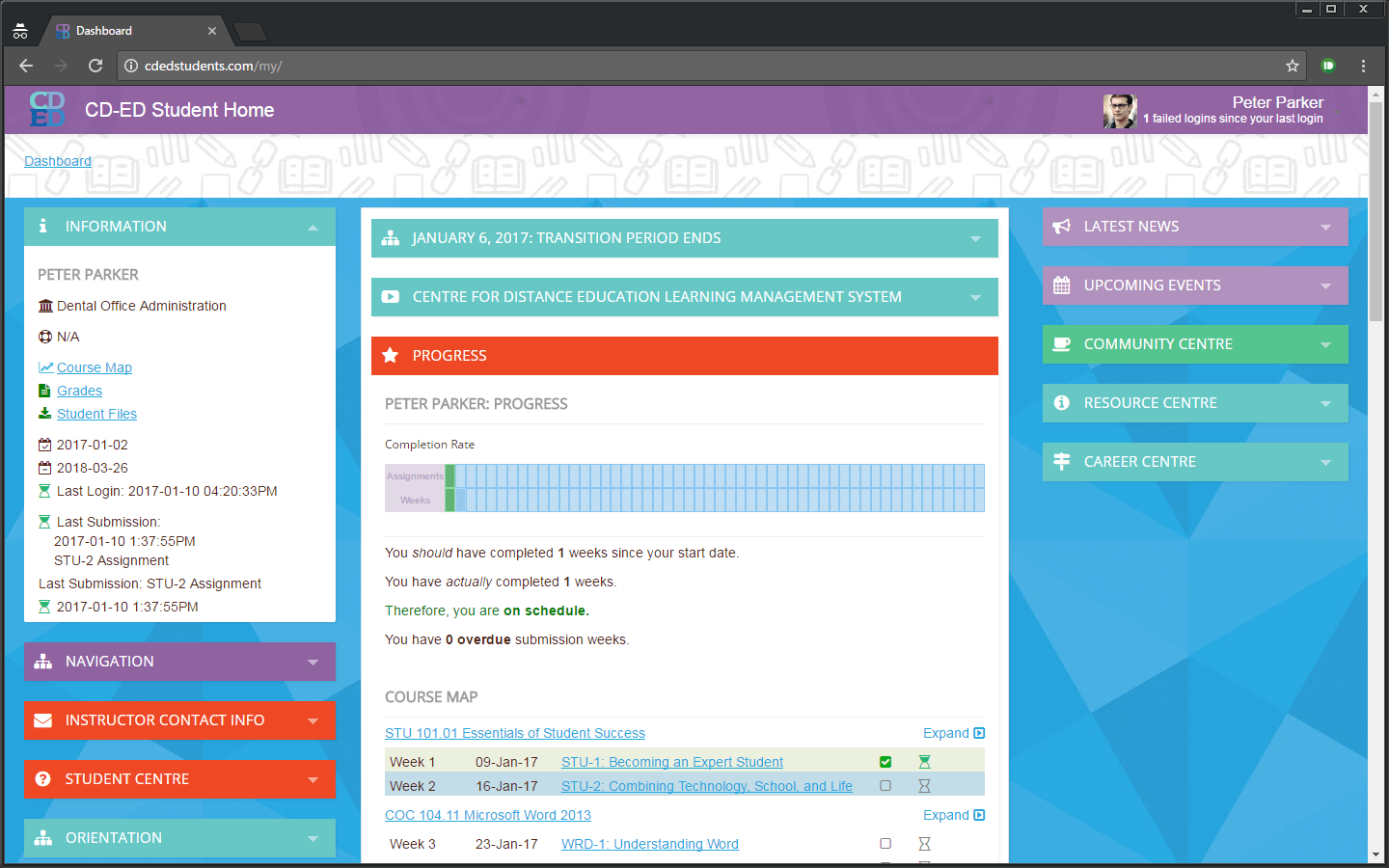 Access Everything Online with Any Device
Each week, you will be given your plan and what you are expected to complete. What you will find and use:
Lessons
Your lessons may come in the form of step-by-step exercises, proprietary lessons by our instructors, guest lectures, discussion forums, presentations, case studies, or video tutorials.
Assignment Submission
When you have completed your lesson and assignments, you simply enter the upload area, click to browse your computer, upload the file and click Send for Marking.
Instructor Evaluation
After the instructor evaluates your assignment, they leave constructive feedback for you. The LMS will send you an email to let you know that the mark and feedback are available.
Automatic Testing
Online tests are available in most subjects which allow you to be evaluated immediately on course material at any time, day or night.
Support
The LMS is also your portal to great support. Learn more about the support »
Mobile Access
The LMS is available to use on your phone! The only thing you CAN'T do via your mobile device is the hands-on, step-by-step material that requires you use your desktop or laptop to run the actual software and complete the practice assignments.
Just open the LMS website in your device's browser, login, and all of your information is available and usable right there!
Take the Next Step
Discover the convenience and ease of training through taking online courses with the support of a vibrant community of fellow students and passionate instructors.   See for yourself.   Contact Us to learn more.