Get the Skills to Be an IT Professional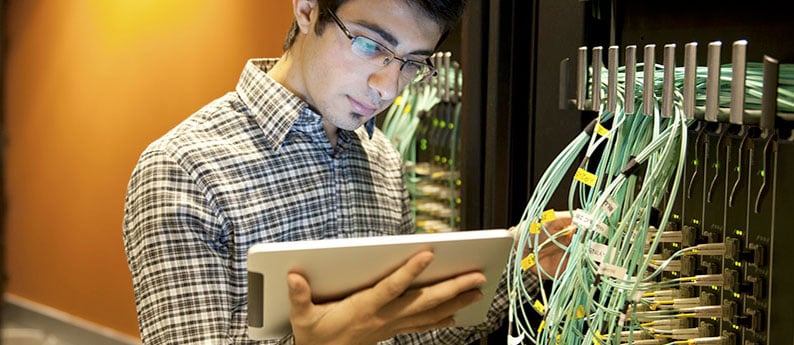 Take Online IT Courses to Start Your New Career in Just 70 Weeks
IT Professionals with desktop and networking skills are versatile and valuable members of any IT support system. Take online IT courses with the Centre for Distance Education (CD-ED) to earn a diploma that also prepares you to earn four industry standard certifications, helping to make you in demand with employers from small businesses to large corporations. You'll have the skills to troubleshoot desktop hardware and software issues as well as support the underlying network infrastructure.
If you are detail-oriented, technical-minded and are interested in getting established in a professional IT career, you could be well-suited to succeed as a Desktop & Network Support Specialist.
Easy to follow courses that are right to the point, guiding you through each activity. Allowing you to fit your study into a busy lifestyle if needed. With teachers eager to assist you along the way.
Becoming a Qualified Professional with Online IT Courses at CD-ED
CD-ED offers an IT Professional diploma program that allows you to gain the fundamental skills you need to pursue a successful career. Graduates of this program enter the professional world with confidence after gaining hands-on training in the following seven areas:
Discovering Computers
This course teaches digital literacy.  Because technology changes, this course presents the knowledge students need to be digitally literate today, developing current knowledge and understanding of computers, mobile devices, the web and related technologies.
Operating Systems Fundamentals
This course teaches the student the fundamental technology concepts of Windows Operating Systems with a foundation for a career as well as the confidence they need to succeed in advanced studies. The student learns the key concepts of Understanding Operating System Configurations, Managing Applications, Managing Files and Folders, Managing Devices, and Understanding Operating System Maintenance. Successful candidates are prepared and supplied with a voucher for the MTA certificate as part of their tuition.
Desktop Support
This course teaches the student the fundamentals of computer technology, installation and configuration of PCs, laptops and related hardware, and basic networking. The student will cover the skills required to install and configure PC operating systems, as well as configuring common features (e.g. network connectivity and email) for mobile operating systems. Completion of this course will prepare the student for the CompTIA A+ certification.
IT Communications
This course teaches the Soft skills needed in the information technology world. Real life skills of interacting with customers, working with professionals, using proper phone techniques, security in communication, workplace communication and practices, leadership in IT, and communication in the real world will be taught through scenario depicting typical workplace situations.
Network Fundamentals
This course teaches the student the fundamental technology concepts of networking with a foundation for a career, as well as the confidence they need to succeed in advanced studies. The student learns the key concepts of understanding Local Area Networking, defining networks with the OSI Model, understanding wired and wireless networks, understanding Internet protocol, implementing TCP/IP in the command line, working with networking services, understanding Wide Area Networks, and defining network infrastructures and network security. Successful candidates are prepared for the MTA certificate.
Network Support
This course covers network technologies, installation and configuration, media and topologies, management, and security. Candidate job roles include network administrator, network technician, network installer, help desk technician and IT cable installer.  Completion of this course will prepare the student for the Network+ certification.
Occupational Health & Safety
The student will be given an introductory course in Occupational Health & Safety, covering the need for OHS in the workplace, workplace hazards and processes, and ergonomics specifically for the modern office.
Get Sought-After Industry Certifications Like CompTIA A+
In addition to getting a diploma from Canada's leading distance education school, graduates of this challenging program also have the potential to earn the following certifications:
MTA Configuring Windows Devices
MTA Networking Fundamentals
CompTIA A+
CompTIA Network+




Working in Information Technology
Like any IT professional, your day-to-day duties will vary depending on what type of company you work for. Primarily, you will provide help and advice to people and organizations using computer software or equipment.
IT Professionals play an important role in the daily upkeep of their organization's networks and computer systems by finding solutions to problems as they occur. Solving an IT problem in a timely manner is important because organizations depend on their computer systems. IT Professionals may provide assistance to the organization's computer users through phone, email, or in-person visits.
Help Desk Technicians, also called Computer User Support Specialists, usually provide technical help to non-IT computer users. They respond to phone and email requests for help; sometimes they make site visits so that they can solve a problem in person.
Take a look at some of the typical duties in this career field:
Test and evaluate existing network systems
Perform regular maintenance to ensure that networks operate correctly
Troubleshoot local area networks (LANs), wide area networks (WANs), and Internet systems
Pay attention to customers when they describe their computer problems
Ask customers questions in order to properly diagnose the problem
Walk customers through the problem-solving steps
Set up or repair computer equipment and related devices
Train users to utilize new computer hardware or software, including printing, installation, word processing, and email
Give information to others in the organization about what gives customers the most trouble and other concerns customers have
Career Opportunities for IT Professionals
Career opportunities exist in a variety of settings. Almost all businesses, small to large, require technical help. Career paths include helpdesk support, network support, field technician, IT consultant to computer repair technician. With experience you can be a self-employed independent contractor.
As a qualified IT Professional you can pursue a variety of positions, including:
Helpdesk Support
Network Support
Field Technician
IT Consultant
Computer Repair Technician
Some IT Professionals even choose to start their own businesses as independent contractors.
Program Curriculum
Duration: 70 Weeks, 1400 Hours
(Based on a 20-hour work week)
| | | | |
| --- | --- | --- | --- |
| Week | Hours | Code | Subject |
| 1-3 | 60 | ITP 100 | Discovering Computers |
| 4-15 | 240 | ITP 101 | Operating Systems Fundamentals |
| 16-39 | 480 | ITP 102 | Desktop Support |
| 40-43 | 80 | ITP 103 | IT Communications |
| 44-47 | 80 | ITP 104 | Network Fundamentals |
| 48-69 | 440 | ITP 105 | Network Support |
| 70-70 | 20 | OHS 100 | Occupational Health & Safety |
The best way to see if the Centre for Distance Education is right for you is to contact an admissions representative. Get more information about career opportunities, our programs, and financial aid options. Get more info now >>
Online Education: Career Training that Fits Your Life
Get the skills and confidence you need to launch a successful professional career – without the stress, cost and hassles of traditional schooling. As a CD-ED student you'll enjoy complete flexibility with your online IT courses. You can manage your schooling around family, work and other responsibilities.
By devoting a minimum of 20–25 hours/week to your course work, you could be ready to start a rewarding professional career in 70 weeks.
With CD-ED, you'll train from the comfort of home, but you're FAR from on your own. The experienced CD-ED instructors and guidance counselors take a personal interest in each student's progress. You'll have one-on-one support via email, chat, online classroom webinars and toll-free phone calls.
You might be learning from the comfort of home, but you still have all the benefits of attending an established, professional college including ongoing Career Services Assistance.

Paying For School: Get Support to Turn Your Career Goals into Reality
CD-ED programs qualify for student financial aid at the government level – not to mention the many other avenues you can pursue as a CD-ED student. The friendly and experienced Financial Planners at CD-ED will work with you to explore your personal options and help you find a finance program that's right for you.
Is Information Technology Training Right for You? Get More Info…
If you're interested in learning more about careers in IT and to explore whether online distance education is right for you, fill out the form on this page to receive more information or take our online training readiness quiz!
A helpful CD-ED Admissions Representative will be happy to answer any questions and can help with everything from career paths to financial aid.
For immediate questions, give us a call at 1-866-446-5898