Get the Skills to Be an Office Administration Professional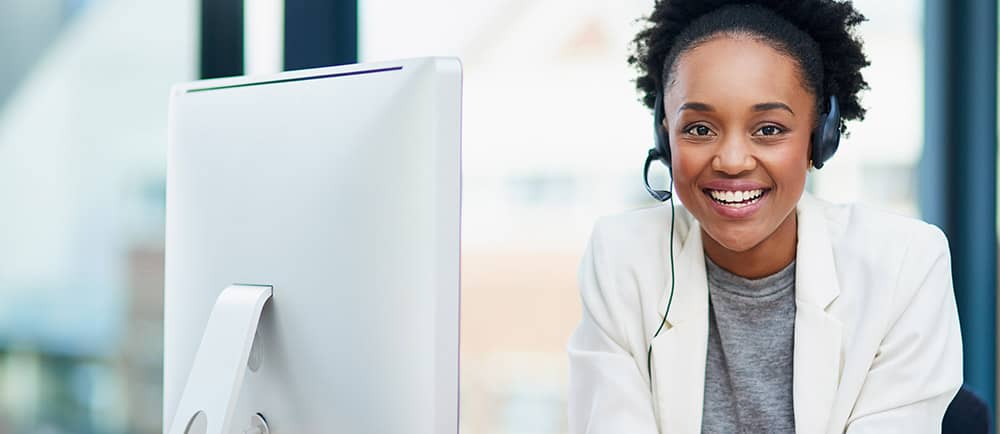 52-Week Online General Office Administration Program
As a receptionist or office administrative assistant, your knowledge of office practices and software enables you to skillfully manage the administrative activities of any size business operation.
The CD-ED General Office Administration Program Online provides the practical skills and industry support it takes to pursue a rewarding office career, with the flexibility and convenience of CD-ED's Distance Learning format.
Office Administration Career Opportunities
Successful Office Administration graduates are employed in a variety of professional positions, including:
Office Administrator & Manager
Receptionist
Executive Assistant
Administrative Assistant
Typist/Word Processing Specialist
Records Clerk
Office Assistant
This program can also help you upgrade within your current office position by preparing you for Microsoft Office Specialist certification.
Successful graduates of the CD-ED General Office Administration program have found work in large corporations, small businesses, insurance companies, real estate, government departments, and more.
Focused Office Administration Course Online
This is career-focused education. You won't spend time working through irrelevant content designed to drag out the program and drive up costs. Your program is tailored around you and getting into a rewarding professional position, without spending a ton of time and money sitting in a classroom.
General Office Administration diploma graduates are skilled in:
Microsoft Word
Microsoft PowerPoint
Microsoft Excel
Microsoft Access
Business English & Communications
Filing
Administrative Procedures
Human Relations
Professionalism & Ethics
Occupational Health & Safety
Keyboarding
The program is led by experienced administration professionals. As a student you benefit from firsthand industry knowledge of what employers expect and what it's really like to work in office administration.
You'll feel confident moving into a professional office setting after completing this 52-week program.
Microsoft Certification – Paid for by CD-ED
Getting familiar with Microsoft Office is a big part of the General Office Administration training. As you complete each Microsoft Office-based module, you'll feel fully prepared for the corresponding Microsoft certification test. Plus, you'll receive a voucher from CD-ED to cover the cost of the exam.
If you are uncertain of how to make a study schedule, don't worry! Instructors can assist.
About Distance Education & Learning Online
The CD-ED program includes all the theory and practical training of traditional learning, without the strict schedule, costly commute or rigid lesson plans of traditional learning.
But it's not right for everyone.
Online Learning requires discipline and time management skills. You will be required to devote 20 hours per week to this program.
The minute I found out I was accepted, I was blown away with happiness. I was nervous and scared at first but after a few minutes of talking to Sandy, she made me feel so comfortable and relaxed. I always called her my life line. I give a tonne of credit to all the staff at CD-ED for getting me through it and for giving my life the fulfilment it needed. Thank you so much CD-ED for the push I needed. I appreciate it so much.
General Office Administration Program Curriculum
20 hrs/wk, 52 Weeks, 1080 Hours
| | | | |
| --- | --- | --- | --- |
| Weeks | Hours | Code | Module Subject |
| 1-2 | 40 | STU 101 | Essentials of Student Success |
| 3-7 | 95 | COC 104 | Microsoft Word |
| 8-11 | 76 | COC 202 | Microsoft PowerPoint |
| 12-15 | 76 | MAT 106 | Microsoft Excel |
| 16-20 | 95 | COC 201 | Microsoft Access |
| 21-27 | 133 | ENG 102 | Business English & Communication |
| 28-28 | 19 | COM 102 | Filing |
| 29-37 | 171 | BUS 101 | Administrative Procedures |
| 38-45 | 152 | BUS 103 | Human Relations |
| 46-49 | 76 | PRO 200 | Professionalism & Ethics |
| 50-50 | 19 | OHS 100 | Occupational Health & Safety |
| 51-52 | 80 | OPR 100 | Practicum |
| 3-48 | 48 | COC 105 | Keyboarding |
The best way to see if the Centre for Distance Education is right for you is to contact an admissions representative. Get more information about career opportunities, our programs, and financial aid options. Get more info now >>
Required for Enrollment: All applicants must have a high school diploma or equivalent prior to enrollment. For any questions about eligibility, please call 1-866-446-5898 to speak with a knowledgeable CD-ED Admissions Representative.
Online Services & Community Learning
As a CD-ED student, you may be learning at home instead of a classroom – but you're far from on your own. Our student website ensures that you'll never feel alone, with access to course-wide discussions, live chats and a private messaging system that allow you to interact with as many (or as few!) fellow students as you wish. Plus, you will have weekly interaction with your instructors.
Convenient Online Learning Platform
Instructor Support
The School website is always available
Industry Software & Materials
I would strongly recommend CD-ED to any aspiring students looking to take the plunge in to starting their career from the comfort of their homes! The instructors and all the other staff are extremely helpful and supportive, so although you're working on your own, it never feels like you are alone! Completing my education by distance was extremely beneficial because I could continue to work almost full time, AND I didn't have to leave my friends and family to go to school. Overall, a wonderful experience from start to finish and I'm so proud of my new diploma! CD-ED is the way to go! :)"
Is General Office Administration Right for You? Get More Info…
If you're interested in learning more about careers in Office Administration and exploring whether Online Learning with CD-ED is right for you, fill out the form on this page to receive more information or take our online training readiness quiz!
A helpful CD-ED Admissions Representative will be happy to answer any questions and can help with everything from career paths to financial aid.
For immediate questions, give us a call at 1-866-446-5898