Get the Skills to Be a Medical Office Administrative Professional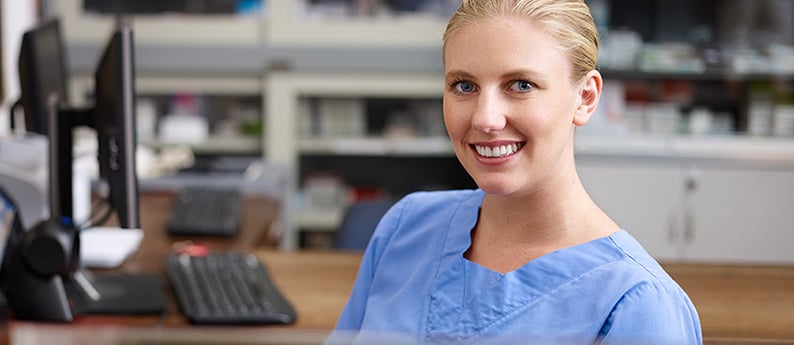 64 Week Online Medical Office Administration Program
If you're great with people, detail-oriented, and interested in learning medical-based terminology, transcription, and office procedures, online Medical Office Administration courses could be for you.
The CD-ED Medical Office Administration Diploma Program provides the practical skills and industry support it takes to pursue a rewarding healthcare office career, in the flexible and convenient CD-ED Distance Learning format.
Applicants to this program must have a high school diploma or GED. If you do not have your high school diploma or GED, click here for more information on resources in your province.
Career Opportunities
In Canada, Medical Office Administration professionals are employed by hospitals, health clinics, medical and dental offices and in other offices throughout the public and private sectors, including:
Private Physician's Practices
Optometrist & other Specialists' Offices
Medical Clinics
Government Departments
Insurance companies
Federal Department of Health
Medical supply companies
Veterinary practices
Medical transcription facilities
Local public health departments
Hospital Departments
Nursing homes
Chiropractor Practices
Massage Therapy Offices
Medical Clinics
And More!
As a Medical Office Administrator, you're the one who keeps the offices of doctors, chiropractors and other healthcare professionals running smoothly. Medical Office Administrators interact with patients, manage records and billing, oversee office procedures and contribute to the efficiency and overall patient experience in a medical setting.
Focused Training Through Online Administration Courses
This is career-focused education. You won't spend time working through electives or irrelevant content designed to drag out the program and drive up costs. Your program is tailored around you and getting into a rewarding professional position, without spending a ton of time and money sitting in a classroom.
Medical Office Administration graduates are skilled in:
Scheduling and confirming medical appointments
Receiving and communicating messages for medical staff and patients
Entering and formatting electronically based medical reports and correspondence
Preparing spreadsheets and documents for review
Interviewing patients in order to complete forms, documents and case histories
Completing insurance and other claim forms
Initiating and maintaining confidential medical files and records
Preparing draft agendas for meetings and taking, transcribing, and distributing minutes
Preparing financial statements and billing
Establishing and maintaining various internal office administrative support procedures
Ordering supplies and maintaining inventory
The program is led by experienced medical administration professionals. As a student you benefit from firsthand industry knowledge of what employers expect and what it's really like to work as a Medical Office Administrator.
You'll feel confident moving into a professional healthcare setting after completing this 64 week program.
Microsoft Certification – Paid for by CD-ED
Getting familiar with Microsoft Office is a big part of the Medical Office Administrator training. As you complete each Microsoft Office-based module, you'll feel fully prepared for the corresponding Microsoft certification test. Plus, you'll receive a voucher from CD-ED to cover the cost of the exam.
If you have questions, don't worry. The instructors will work with you to help you achieve success!
About Distance Education & Online Learning
Online education has grown enormously over the past 10 years and is recognized by employers as equivalent to traditional classroom training. The CD-ED program includes all the theory and practical training of traditional learning, without the set schedule, costly commute or rigid lesson plans of traditional learning.
But it's not right for everyone.
Online Learning requires discipline and time management skills. You will be required to devote 20 hours per week to this program.
I really enjoyed my time at CD-ED. All the teachers were absolutely wonderful - they were eager to help, whilst also being there for help. Sometimes in a bigger class the teacher is overwhelmed by the amount of students and aren't able to sit with them one on one, but if the teachers at CD-ED weren't available at first call you could be certain they would be back to you within the day, I personally heard within hours. The same could be said about email and getting back your grades. The material was challenging enough to keep you on your toes and not make you bored, but not so much that you would lose motivation. Being a stay at home mom with still a lot of other things on my plate, the load wasn't overwhelming. You could also go to your teachers for motivation, and to keep your schedule on track. I would absolutely recommend CD-ED to anyone. It was an amazing time.
Program Curriculum
20 hrs/wk, 64 Weeks, 1320 Hours
| | | | |
| --- | --- | --- | --- |
| Weeks | Hours | Code | Module Subject |
| 1-2 | 40 | STU 101 | Essentials of Student Services |
| 3-7 | 95 | COC 104 | Microsoft Word |
| 8-12 | 95 | MAT 106 | Microsoft Excel |
| 13-17 | 95 | COC 201 | Microsoft Access |
| 18-24 | 133 | ENG 102 | Business English & Communications |
| 25 | 19 | COM 102 | Filing |
| 26-35 | 190 | MED 102 | Medical Office Procedures |
| 36-47 | 228 | MED 101 | Medical Terminology |
| 48-57 | 190 | MTR 103 | Medical Transcription |
| 58-61 | 76 | PRO 200 | Professionalism & Ethics |
| 62 | 19 | OHS 100 | Occupational Health & Safety |
| 63-64 | 80 | MPR 100 | Practicum |
| 60 | 60 | COC 105 | Keyboarding (Concurrent) |
The best way to see if the Centre for Distance Education is right for you is to contact an admissions representative. Get more information about career opportunities, our programs, and financial aid options. Get more info now >>
Required For Enrollment: All applicants must have a high school diploma or equivalent prior to enrollment. For any questions about eligibility, please call 1-866-446-5898 to speak with a knowledgeable CD-ED Admissions Representative.
Online Services & Community Learning
As a CD-ED student, you may be learning from home – but you're far from being on your own. Our student website ensures that you'll never feel isolated, with access to course-wide discussions, live chats and a private messaging system that allow you to interact with as many (or as few!) fellow students as you wish. Plus, you will have weekly interaction with your instructors.
Convenient Online Learning Platform
Instructor Support
Online Access to Resources
Industry Software & Materials
Is Online Medical Office Administration Training Right For You? Get More Info…
If you're interested in learning more about careers in Medical Office Administration, and exploring whether Online Learning with CD-ED is right for you, fill out the form on this page to receive more information or take our online training readiness quiz!
A helpful CD-ED Admissions Representative will be happy to answer any questions and can help with everything from career paths to financial aid.
For immediate questions, give us a call at 1-866-446-5898