Part-Time Health Information Management Program Online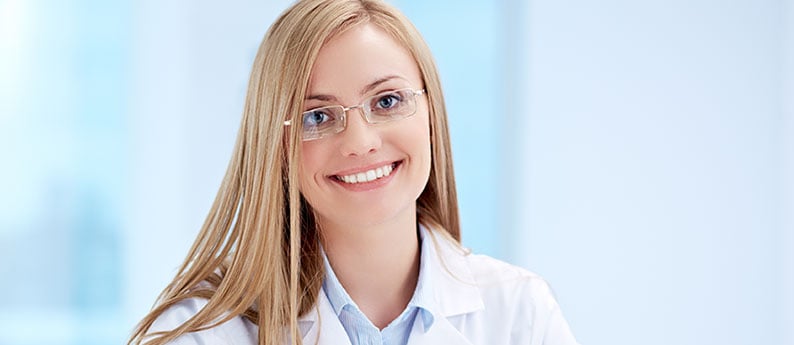 Get the Skills to Be a HIM Specialist in Our Online Health Information Management Diploma Program
Looking at Health Information Management program options to start training as a HIM Specialist but don't feel like you can commit to a full-time program? You're in luck — the Centre for Distance Education (CD-ED) has just launched a part-time version of the Health Information Management Diploma program so that you can get the training you need to pursue a fulfilling career as an HIM professional.
CD-ED offers a complete professional Health Information Management program designed to give you the skills, experience and certification it takes to launch a successful career, with the convenience and flexibility of online learning. Unlike other schools that have lengthy wait lists at CD-ED our classes start monthly, so you can start your career as soon as possible!
Become a Designated CHIM Professional
We are happy to announce that, thanks to Sandra Cotton, Program Coordinator and the rest of our Health Information Management team, CD-ED has successfully renewed its accreditation with the Canadian Health Information Management Association (CHIMA).
Accreditation with CHIMA means that Health Information Management students can be confident that their training meets the standards required by professionals in the industry. It also allows graduates to pursue national certification and receive the CHIM designation in their name. This designation is recognized by employers all across Canada and proves that you are qualified professional.
Prepare for CHIM designation with flexible, online training from our Health Information Management Program.

Part-Time Health Information Management Diploma Program Highlights
1st Health Information Management Training Program in Canada available entirely online!
Excellent gateway program  for individuals not currently working in healthcare
Only program that includes CHIMA membership and covers the cost of the certification exam
There are no wait lists – classes start on a monthly basis
What Do HIMs Do?
Contribute to healthcare delivery as members of the healthcare team
Manage health information services in health facilities
Prepare, analyse and present health information for use in health care delivery
May specialize in areas such as research, management, quality improvement, risk analysis, clinical trials and clinical-financial resource integration
Health Information Management Career Outlook – HIMs in High Demand:
"An additional 6,200 – 12,200 health informatics (HI) and health information management (HIM) professionals, including 70% in IT and HIM roles, will be needed in Canadian healthcare over the next five years due to replacement and growth demand."
– Health Informatics and Health Information Management Resources Outlook 2014 – 2019
Salary:
The average salary range for Health Information Management professionals is:
Salary may vary depending on experience level and location.
How Does Online Health Information Management Program Training Work?
With CD-ED's online education, you'll train from the comfort of home, but you're far from on your own. The experienced CD-ED instructors and guidance counselors take a personal interest in each student's progress. You'll have one-on-one support via email, chat, online classroom, webinars and toll-free phone calls.
As a CD-ED student, you still have all the benefits of attending a traditional college including practical on-the-job work experience in a real HIM employment setting and ongoing Career Placement Assistance, without the costly commute and rigid classroom schedule.
By devoting a minimum of 15 hours/week to your HIM coursework, you could be ready to start a rewarding professional career in Health Information Management in 3 years.
---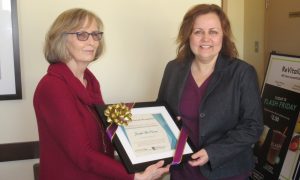 CHIMA Graduating Student of the Year
This year's CHIMA Graduating Student of the Year Award for Ontario has been awarded to CD-ED Health Information Management program student Jennifer MacKinnon! This award is given by the association to the student who has demonstrated academic excellence, leadership, and commitment to HIM values and CHIMA. Congratulations!
---
The Centre for Distance Education's Health Information Management Program offers an Informatics Module, helping you stay up to date as technologies shift.
With the increased use of electronic health records, there is an increased need for sophisticated systems to manage the information based on sound HIM principles. The data from these systems is used for everything from assisting in providing direct patient care at the bedside to aggregating data to create public health policy and manage the entire health system. The technology supports the processes; the HIM professional manages the information. Therefore, as an HIM professional, you need a strong foundation of technical knowledge.
Informatics is the ability to apply information technology to create and use data. This system allows individuals to fully realize the benefits of electronic health information.  Stay ahead of the game!
I was adequately prepared to take advantage of the early-testing option for the National Certification Examination and I passed it. Since completion of the program, I have started a rewarding professional career in Health Information Management. Along with the exceptional education received at CD-ED, I gained valuable practical experiences and professional connections through the required professional practices. Thanks to the hard working, understanding and dedicated coordinators at CD-ED. I would strongly recommend this program to anybody.
Part-Time Health Information Management Diploma Program Curriculum
15 hrs/wk, 156 Weeks, 2340 Hours
| | |
| --- | --- |
| Hours | Module Subject |
| 50 | Business College Math |
| 35 | Medical Terminology |
| 15 | HIT – Windows 10 |
| 20 | HIT – MS Word |
| 25 | HIT – MS PowerPoint |
| 35 | HIT – MS Excel |
| 40 | HIT – MS Access |
| 200 | Anatomy & Physiology |
| 200 | Pathophysiology |
| 50 | Business Communications |
| 95 | Leadership and Management |
| 205 | Health Information Management I |
| 205 | Health Data Classification I |
| 70 | Canadian Healthcare System |
| 75 | Statistics |
| 50 | Ethics in Health Care |
| 10 | Occupational Health & Safety |
| 90 | Practicum I |
| 255 | Health Information Management II |
| 125 | Health Data Classification II |
| 75 | Health Information Law |
| 50 | Epidemiology |
| 80 | Health Informatics |
| 90 | Research Project |
| 90 | Practicum II |
| 105 | Synthesis Project |
The best way to see if the Centre for Distance Education is right for you is to contact an admissions representative. Get more information about career opportunities, our programs, and financial aid options. Get more info now >>
Required For Enrollment: All applicants must have a High School Diploma with Grade 12 English, Math and Science prior to enrollment. For any questions about eligibility, please call 1-866-446-5898 to speak with a knowledgeable CD-ED Admissions Representative.

Successful graduates of the CD-ED Health Information Management Diploma program are prepared to challenge the CHIMA National Certification Exam and use the CHIM credential recognized nationally.
Why Certification?
Upon successful completion of the CHIMA national examination, you will be eligible to use the following:
Professional credential – CHIM
Professional title – Certified HIM Professional
Graduation from an HIM program does not mean you are an HIM professional. If you do not successfully challenge the CHIMA national examination, you are not an HIM professional and can not use the CHIM credential or HIM title. CHIM is protected as the college credential and HIM™ is trademarked by CHIMA.
Not all programs include certification.  Protect yourself!  When looking at HIM training, make sure to guarantee that the program will prepare you to successfully achieve certification in order to work in this industry.
Get Your Certification and Association Memberships Paid For – So You Can Start Working Right Away
The Health Information Management program at CD-ED takes students from ground zero (little or no experience) to HIM professional. We enroll HIM students as members with CHIMA and, most importantly, fully prepare (we have a mock certification exam to assist you) and pay for you to write the certification examination at the end of your program. You can not work as a HIM professional without a pass in this exam.
Emerging Technology Creates Huge Demand for HIM Professionals
The health industry throughout North America is at risk of a serious Health Information Management labour shortage. A 2014 Health Informatics (HI) and HIM Human Resources report identified that an additional 6,200-12,200 HI and HIM professionals will be needed by 2019.
The future of healthcare is paperless, electronic records. As a result of this trend, new Health Information Management career opportunities are emerging including content compliance, information management, business analysis, quality management, education and training. This is an exciting time for individuals involved in Health Information Management, and a promising time for individuals looking to get started in a rewarding career with a future.
Is a Rewarding Career in Health Information Management Right For You?
Get More Info…
If you're interested in learning more about careers in Health Information Management, and exploring whether Online Learning with CD-ED is right for you, fill out the form on the side of this page to receive information.
A helpful CD-ED Admissions Representative will be happy to answer any questions and can help with everything from career paths to financial aid.