Get the Skills to Be a Dental Office Professional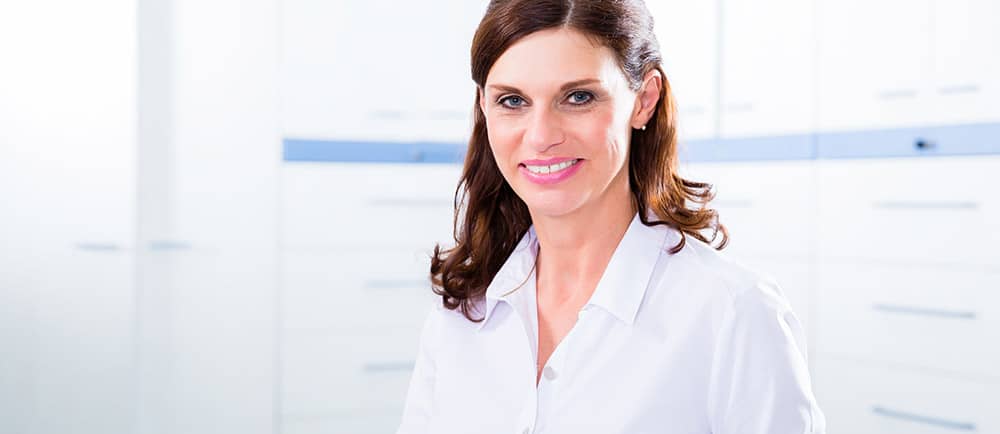 64 Week Dental Office Administration Program in Canada with CD-ED's Online Administration Courses
If you're interested in a rewarding career in the dental field and enjoy working with and helping others, a career in Dental Office Administration could be right for you.
As a Dental Office Administrator, you'll make an important contribution to the health and wellness of your community while working in a clean, comfortable office setting.
Becoming a Qualified Dental Office Administrator
As a successful graduate of the CD-ED Dental Office Administration program, you will be proficient in dental office practices and software, enabling you to manage a dental office, receive visitors, and build applications. Our program places a strong emphasis on learning dental terminology, office management and communications throughout the training courses. Here are some of the topics covered in our online administration courses:
Essentials of Student Success
Microsoft Word
Microsoft Access
Business English & Communication
Keyboarding
Filing
Basic Bookkeeping
Quickbooks
Dental Terminology
Dental Office Administration
Professionalism & Ethics
Occupational Health & Safety
Practicum
By taking online courses in Dental Office Administration, you'll develop a personal attitude for success. Our training programs not only teach the technical skills for the career, but include time management practices that help you become a successful, organized professional.
You will be able to communicate clearly, collaborate with others, and build workplace relationships.

Online Dental Office Administration Courses – Program Curriculum
64 Weeks, 1320 Hours
| | | | |
| --- | --- | --- | --- |
| Weeks | Hours | Code | Course Subject |
| 1-2 | 40 | STU 101 | Essentials of Student Success |
| 3-7 | 100 | COC 104 | Microsoft Word |
| 8-12 | 100 | MAT 106 | Microsoft Excel |
| 13-19 | 133 | ENG 102 | Business English & Communication |
| 10-62 | 50 | COC 105 | Keyboarding |
| 20 | 19 | COM102 | Filing |
| 21-27 | 133 | MAT 220 | Basic Bookkeeping |
| 28-31 | 76 | MAT 221 | Quickbooks |
| 32-43 | 228 | DEN 100 | Dental Terminology |
| 44-57 | 266 | DEN 200 | Dental Office Administration |
| 58-62 | 76 | PRO 200 | Professionalism & Ethics |
| 58-62 | 19 | OHS 100 | Occupational Health & Safety |
| 63-64 | 80 | DPR 100 | Practicum |
The best way to see if the Centre for Distance Education is right for you is to contact an admissions representative. Get more information about career opportunities, our programs, and financial aid options. Get more info now >>
Required for Enrollment: Applicants to this program must have a high school diploma or GED. If you do not have your high school diploma or GED, click here for more information on resources in your province.
Practicum
Successful students will participate in a virtual practicum, allowing for real-world experience and better job prospects.
Career Opportunities
A dental office is a dynamic place with a wide variety of activities.  You could work in dentist offices, orthodontist offices and other specialties such as day surgery, and more!
Online Education: Career Training that Fits Your Life
Get the skills and confidence you need to launch a successful professional career – without the stress, cost and hassles of traditional schooling.
Online training is an excellent option for many, but, like anything worthwhile, it's not always a breeze.  You will be required to devote 20-25 hours per week to your course work (4-5 hours per day, 5 days per week), in order to stay on track.
With self-discipline and CD-ED's proven and recognized Distance Learning system, you could be ready to start a rewarding professional career in a little over 1 year, without disrupting your life.

Constant Support
With CD-ED, you'll train from the comfort of home, but you're FAR from on your own.
Many of our graduates say that our experienced and dedicated staff sets us apart from many other educational institutions.  The instructors and guidance counselors take a personal interest in each student's progress and success. You'll have one-on-one support via email, chat, online classroom webinars and toll-free phone calls.
Our Alumni are our students for life.  We provide lifetime career services assistance, skills development and encouragement throughout their career journey.
"CD-ED has completely changed my outlook on distance education. The instructors are very helpful and supportive – they want you to do well. The course materials were extremely focused and each course gives you the tools and skills you need to succeed in the work place. I would definitely recommend CD-ED to anyone who is ready to change their life!"

– Colette Bishop-Green, MOA Graduate
Financial Aid
As a CD-ED student you can pursue both Provincial and Federal Student Loans and a wide variety of other options, including Government Agency programs, student credit, corporate bursaries and much more.
If you're considering Financial Aid to help finance your career training, we highly recommend you contact a Financial Planner first.
Applying for Financial Aid can be a complicated procedure, but our experienced staff will break it down and walk you through the process simply and easily.
Our continued commitment to the ongoing achievement of our students and the success CD-ED alumni enjoy is in part of why CD-ED recently received a 95% satisfaction rating from former students.
Is Dental Office Administration Right For You? Get More Info…
If you're interested in learning more about careers in Dental Office Administration, and exploring whether Online Learning with CD-ED is right for you, fill out the form on this page to receive more information or take our online training readiness quiz!
A helpful CD-ED Admissions Representative will be happy to answer any questions and can help with everything from career paths to financial aid.
For immediate questions, give us a call at 1-866-446-5898