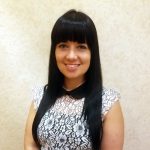 As the recipient of the CD-ED August 2017 Scholarship Award, I would like to express my sincere appreciation for the fabulous support that you have provided me through this scholarship.
Over the course of my academic career, I have had the opportunity to study the Medical Office Assistant program, with one-on-one time with my instructor. Their support and encouragement is like no other I have experienced at other academic institution I have attended. They truly are there to support you, and help you excel in your field of study.
This scholarship has allowed me to not only maintain focus on my studies, but to also continue on with my day-to-day life living. Balancing school with a full-time job is not always easy, but the CD-ED scholarship has really helped ease that burden. It is a great school-work life balance, with the instructor-student relationship you would have in an in-class setting; I couldn't have asked for anything better!!!
I look forward to successfully completing my program in the next year and start my career in the medical field. I thank you once again for your generous support in this endeavor.
Sincerely,
Maggie Campbell