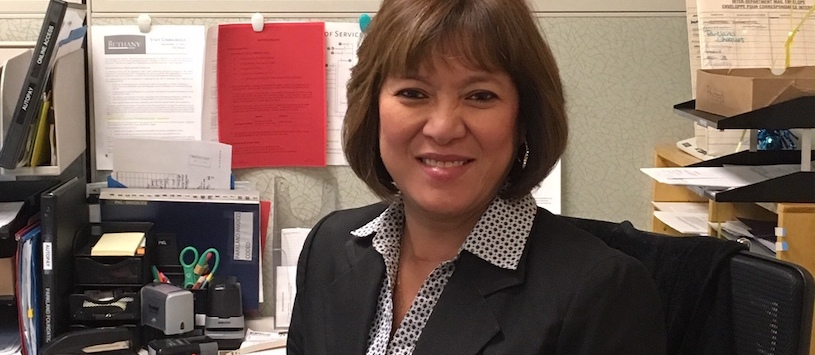 Getting a Diploma From CD-ED Was Exactly What Lina Needed to Break Into the Workforce
As a landed immigrant, Lina found it difficult to penetrate the job market in Canada and get a meaningful job that she really wanted. Lina realized she needed an 'in' – to get career training, support, and connections to help her succeed. It took Lina years to get back into the accounting field, the job she initially had in the Philippines before moving to Canada, but with the help of CD-ED, she got there. Things all started to change for Lina once she attended and graduated from CD-ED. Lina explained:
The door opened to me, and great opportunities followed when I finished my studies and got my Accounting Technician Diploma. I have no regret choosing CD-ED. I believe that being a graduate of the school added spice to my resume and my qualifications. The school built my confidence, and that confidence lead to success in my career. I easily got a job related to accounting after I graduated.

-Lina, Accounting Technician Graduate
And not just any job! Lina originally signed a contract for an 18-month casual position, but in less than 2-months, her employer offered her a full-time position. Presently, Lina works in the Finance Department as an Accounts Payable Clerk in a Home Care facility. With a combination of hard work and the training she received at CD-ED, Lina was able to secure full-time, meaningful work in the field she trained in – all in about 1-year's time.
CD-ED Education Prepared Lina to Seek Advanced Education
When Lina decided to continue her online studies at another institution her CD-ED education was, again, helpful. Lina is currently taking an online Payroll Compliance Practitioner (PCP) Certification Program through the Canadian Payroll Association. She was able to waive one course (Introduction to Accounting) because she took a similar class at CD-ED, saving her time and money. Lina currently has one more course to finish and then she'll get her designation as a Payroll Compliance Practitioner (PCP). That will open new doors for Lina, and she'll be eligible for more advanced job opportunities.
When asked about her time studying at CD-ED Lina said, "My school experience was great! Dealing with the staff from registration and admin who assisted me on my inquiries, to finance people who helped me on the student loan process, to my instructors who patiently guided and supported with my courses." Lina likes the idea that students study at their own pace, which is ideal for working students. She mentioned her instructor (Lucille Graham) motivated her my monitoring whether she visited the site, and checking in with her regularly.
Regular Contact From CD-ED Instructors Helped Keep Lina on Track With Her Studies
After graduating from CD-ED and starting further online studies, Lina found that she could only reach her instructor through email and that the lack of interaction was frustrating. That made her even more grateful for the support offered at CD-ED. Lina's instructor, Lucille, could be reached at any time, answered her questions thoroughly, and was open to hearing her arguments. When asked about what she missed the most Lina replied that she really missed her morning emails and phone calls from her instructor. Lina realized there is a special personal connection at CD-ED, between the school, the instructors, and the students – one that she appreciates even more now that she has graduated.
Lina does not worry about her student loan because she knows her training helped to move her career forward. She said, "It really made a huge difference when it comes to pay scale." Congratulations Lina, we are proud of all that you've accomplished.
Are you interested in moving your career forward? Check out CD-ED's

online programs

– you can work toward a new career without having to disrupt your entire life thanks to online education. Give us a call to speak with a friendly advisor today at 1-866-446-5898.