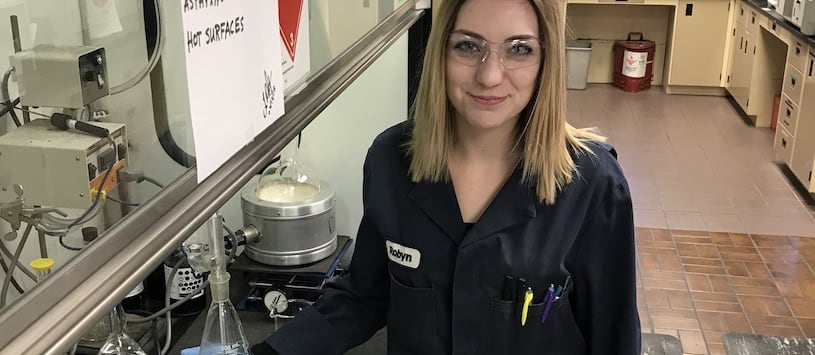 Learning About Business Communications and Office Software Improved Robyn's Performance as a Lab Technician
Helping others is a calling for Robyn: She really loves working with people! Learning to better interact with others through the Business Communication portion of the Office Administration program gave Robyn even more confidence in her natural abilities and was a favourite part for her. A wide variety of classes in the program meant that not only could Robyn gain practical administrative skills, she could also polish her people skills. Robyn says she "…learned a lot of things I didn't know before."
The Support Robyn Received from CD-ED Didn't Stop With Her Graduation
Feeling well prepared when starting to look for work was the edge Robyn needed to land her job as a Lab Technician. Career Services was there for her with resume writing help and suggestions on where to apply for work.
As a Lab Technician making catalysts used in the hydrocarbon processing industry, it is important for Robyn to comfortably read and match the specifications for the product she is responsible for. Daily results tracking and data entry are part of her job in the lab and Robyn makes good use of the Microsoft Excel training in her program to manage those tasks with ease.
It was amazing to make my own schedule and to complete my work when it best suited my needs.
Flexibility in her class schedule was a priority for Robyn who also wanted access to an instructor if she needed help. CD-ED met Robyn's needs and expectations in both areas, and is one of the main reasons she recommends this program to others. She says, "I highly recommend it for anyone who struggles with the commitment of being somewhere at a certain time."
Congratulations on your success Robyn!
For more information about how you can get the skills to become a professional office administrator, visit the Office Administration Program page or call 1-866-446-5898.