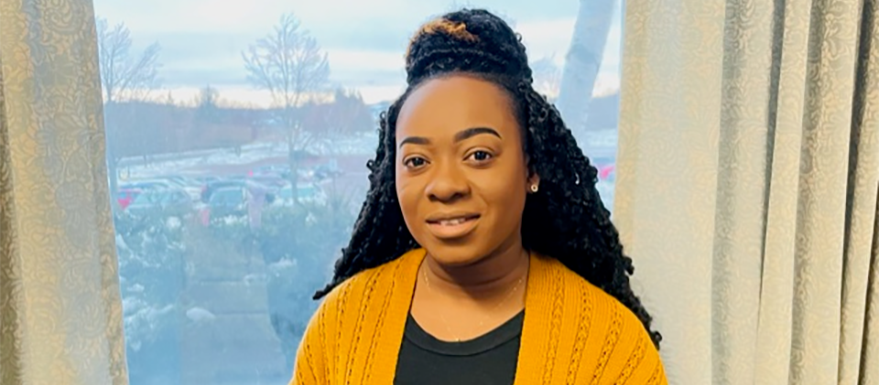 Online Health Information Management (HIM) Training Proved to be Successful for Nassain-gay
Meet CD-ED Alum, Nassain-gay Logan, a Health Information Management graduate working in Nova Scotia! Nassain-gay recently completed our alumni survey, and this is what she had to say:
The School Experience
Q. Why did you pick your program at CD-ED?
"I did some research about the HIM field and CD-ED program was the most suitable. The program was online and flexible which accommodated my work schedule and lifestyle. The fact that the program was also accredited was a huge factor. I knew when I completed my studies there would not be any issues obtaining my CHIM credential and being considered for jobs. Completing an accredited HIM program and having the CHIM credential are two major criteria to be considered for jobs in the HIM field."
Q. Which part of the course was the most enjoyable? Most challenging? How did you handle this?
"The HIM course is a very intensive program that will introduce you to various areas of health information and even understanding Canadian health care history. I really enjoy learning new things. I love learning! The fact that each week I was exposed to new content and assignments to help me transfer my knowledge is a plus.
The most challenging aspect of taking the program is time management. I work 40 plus hours a week in a full-time job, and I had to complete multiple readings and submit assignments each week. The flexible nature of the CD-ED program allows you to complete assignments and submit ahead of each week's deadline. Therefore, you can be a few weeks ahead and not struggling to submit assignments at their exact deadline. From the day I enrolled in the program, I tried to be at least two weeks ahead with readings and assignments. This provided some room to manage any emergency that arises and still be on top of your studies."
Entering the Work Force
Q. Where are you working now? What's your job title?
"I am currently working with the Nova Scotia Health Authority as a Coding Classification Specialist."
Q. What is a typical day like for you at work?
"At my location, I only code and abstracting health information from medical records electronically. I use the 3M and Meditech programs to review and submit coded information. On a daily basis, I refer to the Canadian Coding Standards, ICD-10-CA/CCI Classification Primer, anatomy of body systems and sometimes research surgical interventions to fully understand how the procedures are conducted."
Q. What program skills do you use the most in your work?
"Being a Coding Classification Specialist, I use my coding skills the most from the program. It is important to be on top of your anatomy and medical terminology courses. Being a Researcher at heart helps you throughout your day!  (Might be some overlap with my previous answer)"
Other:
Q. How did the pandemic impact your job search?
"I completed my program in August 2020 and took a few months before challenging the NCE exam and searching for a job. I believe the pandemic impacted my job search in a positive way. There was still a steady flow of job postings in the HIM field across the country with some remote possibilities. Many persons were retiring from the field which opened positions for new graduates. Be flexible and open to explore new locations and roles than what you initially wanted."
Q. Anything else you'd like to share about your overall experience?
"Before starting your job search journey, it is imperative to revamp your resume. I was transitioning from a different industry into the healthcare filed. CD-ED has an excellent career centre that will guide you along your job search journey. They will assist you with highlighting your transferable skills and valuable aspects of the HIM program. This is critical if you have limited to no experience. Be patient with yourself and positive! Consider your job search as another course in your program. Set targets each week for what you want to accomplish."
For more information about how you can get the skills to become a Health Information Management Graduate, visit the Health Information Management or call 1-866-446-5898.