Get the Skills to be an Office Administrative Assistant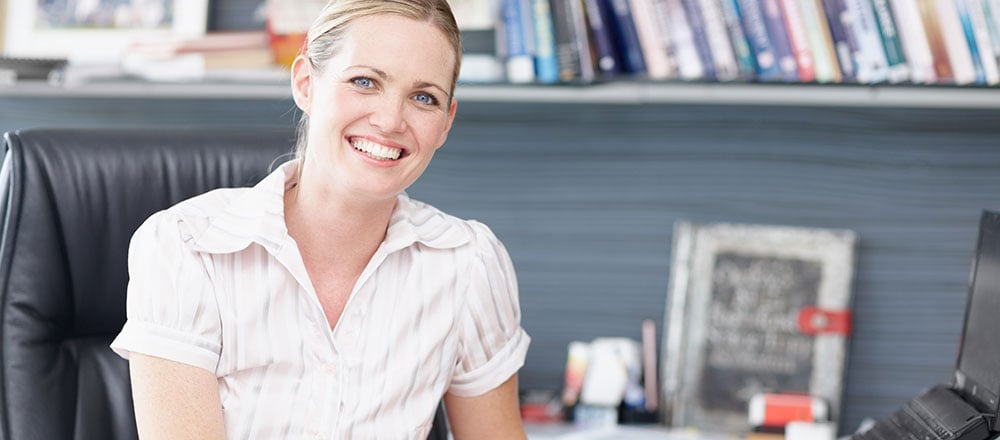 52 Week* Online Administrative Assistant Program
Thinking about taking online Administrative Assistant courses? If you're great with people and interested in the organization and running of an office as a receptionist, secretary, or administrative assistant, working as an Office Administrative Assistant could be for you.
Your strong communication skills, keen organizational skills and solid understanding of administration principles will make you highly attractive to top employers.
As an administrative assistant professional trained in office practices and software, you'll work closely with both managers and staff to skillfully control the administrative activities of any size business operation. You'll have the skills to run an office smoothly, receive visitors, basic accounting, payroll, create documentation, and write & file office correspondence.
One of the great things about office administration is the variety in your work day. Office administration covers many areas in a typical office setting to stimulate your interest levels and keep the job exciting.
Online Administrative Assistant Courses for Rewarding Career Opportunities
We prepare you for Microsoft Certification with this program. As you complete each Microsoft Office-based module, we will provide you with a voucher for writing the official Microsoft certification test for that component. Successfully completing these tests mean that in addition to receiving your diploma, you will also be certified as a Microsoft Office Specialist.
Successful graduates have found work as:
Administrative Assistant
Receptionist
Executive Assistant
Microsoft Office Specialist
Bookkeeper
Typist
Word Processing Specialist
Records Clerk
Office Assistant
Others have become virtual assistants or used their skills as a stepping-stone to a job higher up on the office chain.
Focused Office Administrative Assistant Courses Online
This is career-focused education. You won't spend time working through irrelevant content designed to drag out the program and drive up costs. Your program is tailored around you and getting into a rewarding professional position, without spending a ton of time and money sitting in a classroom.
Online Office Administrative courses increase your skills in:
Microsoft Word
Microsoft Excel
Microsoft Access
Business English and Communication
Filing
Administrative Procedures
Basic Bookkeeping
Quickbooks
Professionalism and Ethics
Occupational Health and Safety
Keyboarding
The program is led by experienced administration professionals. As a student you benefit from firsthand industry knowledge of what employers expect and what it's really like to work in office administration.
You'll feel confident moving into a professional office setting after completing this 52-week program.
Microsoft Certification – Paid for by CD-ED
Getting familiar with Microsoft Office is a big part of the Office Administrative Assistant training. As you complete each Microsoft Office-based module, you'll feel fully prepared for the corresponding Microsoft certification test. Plus, you'll receive a voucher from CD-ED to cover the cost of the exam.
About Distance Education & Learning Online
The CD-ED program includes all the theory and practical training of traditional learning, without the strict schedule, costly commute or rigid lesson plans of traditional learning.
But it's not right for everyone.
Online Learning requires discipline and time management skills. You will be required to devote 20 hours per week to this program.
To be honest, my eyes well up when I think of the opportunities this school has given me even thus far. I am able to stay home with my son who I am raising alone (who means the world to me), AND continue my education. What more could a girl ask for? My son is going to thank me one day for taking this step to offer him a better life. I look forward to bettering myself too. I have always dreamed of working in an office setting as opposed to fast food. It was degrading and made me feel worthless. I want to feel important and essential to an employer and to society. I feel like I have a fresh start and like I am a new person. I am so eager to see where this road will lead, and where I will stand in 5 years.
Office Administrative Assistant Program Curriculum
Duration: 52 Weeks, 1040 Hours
(based on a 20-hour work week, with the exception of the practicum as it is a 40-hour work week)
| | | | |
| --- | --- | --- | --- |
| Weeks | Hours | Code | Module Subject |
| 1-2 | 40 | STU 101 | Essentials of Student Success |
| 3-7 | 95 | COC 104 | Microsoft Word |
| 8-11 | 76 | MAT 106 | Microsoft Excel |
| 12-16 | 95 | COC 201 | Microsoft Access |
| 17-23 | 133 | ENG 102 | Business English & Communication |
| 24 | 19 | COM 102 | Filing |
| 25-34 | 190 | BUS 101 | Administrative Procedures |
| 35-41 | 133 | MAT 220 | Basic Bookkeeping |
| 42-45 | 76 | MAT 221 | Quickbooks |
| 46-49 | 76 | PRO 200 | Professionalism & Ethics |
| 50 | 19 | OHS 100 | Occupational Health & Safety |
| 51-52 | 80 | OPR 100 | Practicum |
| 14-52 | 48 | COC 105 | Keyboarding (runs concurrently with program) |
The best way to see if the Centre for Distance Education is right for you is to contact an admissions representative. Get more information about career opportunities, our programs, and financial aid options. Get more info now >>
Required For Enrollment: All applicants must have a high school diploma or equivalent prior to enrollment. For any questions about eligibility, please call 1-866-446-5898 to speak with a knowledgeable CD-ED Admissions Representative.
Online Services & Community Learning
As a CD-ED student, you may be learning at home – but you're far from on your own. Our student website ensures that you'll never feel alone, with access to course-wide discussions, live chats and a private messaging system that allow you to interact with as many (or as few!) fellow students as you wish. Plus, you will have weekly interaction with your instructors.
Convenient Online Learning Platform
Instructor Support
Online Access to Resources
Industry Software & Materials
Being a mature student I was interested in distance education, and I looked at many schools before choosing this one. I am so grateful to have found this school just prior to enrolling in a different one. I highly recommend that you check out the CD-ED site, and I am more than pleased to tell you why. The instructors are phenomenal, the support is second to none, the courses are very extensive but well presented for beginners, and they assist you from beginning to end. You still have access to this support after graduation.
Is a Career as an Office Administrative Assistant Right For You? Get More Info…
If you're interested in learning more about careers as an Office Administration Assistant, and exploring whether taking online administrative assistant courses with CD-ED is right for you, fill out the form on this page to receive more information or take our online training readiness quiz!
A helpful CD-ED Admissions Representative will be happy to answer any questions and can help with everything from career paths to financial aid.
For immediate questions, give us a call at 1-866-446-5898