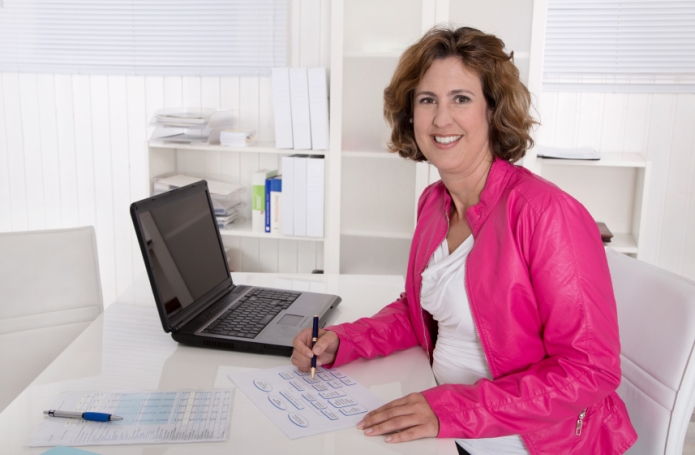 Today's Office Administrator: Multiple Talents Needed
If you are looking for a career with a lots of challenge and variety, then training as an office administrator is a great way to begin. Today's office administration careers offer much more than the secretarial work of years ago. You often coordinate the work of whole teams of people. One moment you'll be putting together a reception for visiting clients, and the next, you'll need to concentrate on budget figures.  This this kind of versatility can't always be taught, but you can learn in-demand business applications skills, like the ones taught in the Office Administration Online Program at the Centre for Distance Education.
Computers Increase Productivity – And Office Admins Do More As A Result
A generation ago, an office administrator's job involved phoning, filing papers, taking dictation (sometimes with shorthand), typing, updating ledgers, filling journals and paper schedules. By comparison, most of the work now is done with computer applications. All these technological advances come with a price, however; office administrators in 2016 now do the work of several people, including travel agents, typists, and personal assistants. That is why it's essential to arrive in a new position already familiar with foundational office programs like Microsoft Office Suite, and to have some employability skills, like time management, firmly established.
Here's a list of the responsibilities that an office administrator can expect to have on a regular basis:
preparing documents and presentations
developing spreadsheets
arranging communication technology for meetings
organizing travel arrangements
recording and distributing meeting minutes
scheduling appointments and meetings
organizing events
writing and responding to emails
documenting office procedures
ordering supplies and maintaining inventory
tracking and managing records
updating content on websites
All of these tasks now involve advanced computer skills, and that is why CD-Ed makes computer skills development an essential part of their office administration program. In this online program, you learn:
Microsoft Office Suite (Word, Excel, PowerPoint, Access)
Business English and Communications
Filing
Administrative Procedures
Human Relations
College Keyboarding
Not only do you learn Microsoft Office, we also cover the cost of your Microsoft Certification exam!
Opportunities in Office Administration Careers
Being equipped with computerized office administration skills is a great stepping stone to more responsibility. Many office administrators go on to careers in Human Resources, Sales and Marketing, Project Management, Health Information Management, Medical or Legal Office Administration, and Information Technology.
If office administration looks like the right career for you, contact us at CD-Ed.  We would love to talk to you about the opportunities.