PC Repair & Maintenance Program Online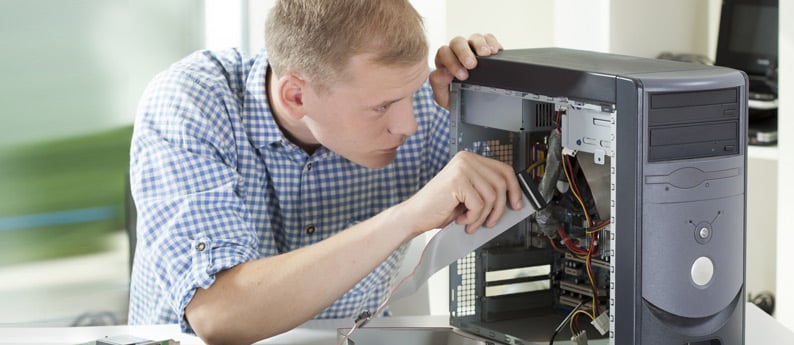 Get the Skills to Be a Computer Support Technician in 1 Year
The CD-ED Online PC Repair & Maintenance Program provides the practical skills and industry support it takes to pursue a rewarding career in IT, in the flexible and convenient CD-ED Distance Learning format.
Courses Include:
Computer Concepts
Windows
The Internet
Technical Writing
A+ Guide to Managing & Maintaining Your PC
A+ Comptia Certified Computer Technician Exam Prep
After completing this program, you will have all of the skills required to pursue a career as a computer technician doing repairs, maintenance, and even building computers from scratch.
A+ Certification – Paid for by CD-ED
As a graduate of this program you'll feel fully prepared to complete your  A+ Certification. We'll even include vouchers for writing both of your A+ tests!
A+ Comptia certifications are recognized by and expected by employers, and demonstrate you have the necessary knowledge and training they look for from a Computer Repair Tech.
Focused Online PC Repair Training
This is career-focused education. You won't spend time working through electives or irrelevant content designed to drag out the program and drive up costs. Your program is tailored around you and getting into a rewarding professional position, without spending a ton of time and money sitting in a classroom.
The PC Repair & Maintenance Program is led by experienced computer repair professionals. As a student you benefit from firsthand industry knowledge of what employers expect and what it's really like to work as an IT professional.
You'll feel confident moving into a professional legal setting after completing this 52 week program.
Computer Technician Career Opportunities
As a qualified Computer Tech you can work in a variety of settings. You could work for small to large computer repair businesses as a Service Tech, or within any company or office as their Technical Support Specialist. You can even decide to start your own PC Repair business!
About Distance Education & Learning Online
Online Education has grown enormously over the past 10 years and is recognized by employers as equivalent to traditional classroom training. The CD-ED program includes all the theory and practical training of traditional learning, without the set schedule, costly commute or rigid lesson plans of traditional learning.
But it's not right for everyone.
Online Learning requires discipline and time management skills. We recommend students be able to devote 20 hours per week to their program.
Having recently completed my course in PC Maintenance & Repair, I want to take this time to say thank you the staff at CD-ED in putting together a course that is very thorough and highly motivational. I have come away with a strong foundation on which to build a career. One of the things that was most impressive was the interest the instructor had in my progress and his willingness to go out of his way to be helpful. Thank you.
The fun, online quiz takes 3-minutes to complete and you'll get a personalized report. Identify your strengths and social style plus the training and positions you're best suited for.
Get Your Career Training Readiness score now.
Online PC Repair & Maintenance Program Curriculum
20 hrs/wk, 52 Weeks, 1040 Hours
| | | | |
| --- | --- | --- | --- |
| Weeks | Hours | Code | Module Subject |
| 1-3 | 60 | COC 101 | Computer Concepts |
| 4-5 | 40 | COC 102 | Windows |
| 6-7 | 40 | COC 103 | The Internet |
| 8-15 | 160 | ENG 101 | Technical Writing |
| 16-42 | 540 | PCM 101 | A+ Guide to Managing & Maintaining Your PC |
| 43-52 | 200 | PCM 102 | Exam Prep A+ Cpmtia Certified Computer Training |
Required For Enrollment: All applicants must have a high school diploma or equivalent prior to enrollment. For any questions about eligibility, please call 1-866-369-6050 to speak with a knowledgeable CD-ED Admissions Representative.
Online Services & Community Learning
As a CD-ED student, you may be learning on your own schedule – but you're far from on your own. Our student website ensures that you'll never feel alone, with access to course-wide discussions, live chats and a private messaging system that allow you to interact with as many (or as few!) fellow students as you wish. Plus, you have access to and continual interaction with your instructors.
Convenient Online Learning Platform
Unlimited Instructor Support
24/7 Access to Resources
Industry Software & Materials
CD-ED was the ideal choice for me. I was able to work full-time and still manage to get my diploma. CD-ED was there for me when I felt overwhelmed. They are an incredible support team. I was skeptical at first about online education, but it was definitely the best decision I ever made. A big thanks to everyone at CD-ED.
Is a Career in PC Repair & Maintenance Right For You?

Get More Info…
If you're interested in learning more about a career as a Personal Computer Maintenance & Repair Technician, and exploring whether Online Learning with CD-ED is right for you, fill out the form on the side of this page to receive information.
A helpful CD-ED Admissions Representative will be happy to answer any questions and can help with everything from career paths to financial aid.