Get the Skills to be an Office Administrative Professional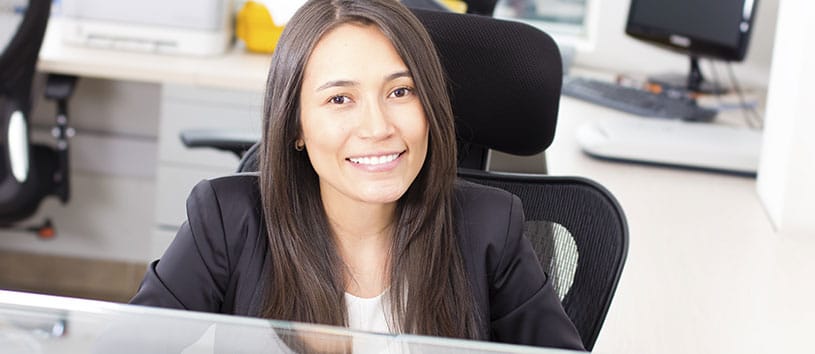 NEW for Fall 2020! 52-Week Office Administration with Social Media Program
If you're an organized individual who enjoys working with people, and you'd like to learn more about the world of digital marketing, then Office Administration with Social Media training could be a great fit for you.
During this program, you will get the skills and training you need to start a rewarding career in office administration. You will also learn a variety of social media skills, including social media & digital communications, social media marketing, along with graphic design components using Microsoft PowerPoint and Microsoft Publisher.
This program was created with the needs of small to medium-sized organizations in mind, where administrative duties often require a variety of skills and talents beyond reception and bookkeeping tasks. Small and medium-sized businesses appreciate someone with a wide skillset who can take on responsibilities in multiple areas, and especially value those who can help with social media production and strategy.
It's essential for every public-facing business or organization to maintain a social media presence as part of their marketing efforts. Having that marketing knowledge on top of other office skills could make you a more attractive candidate and set yourself apart from your competition.
Office Administration Career Opportunities
Successful graduates have found work as:
Administrative Assistant
Receptionist
Executive Assistant
Microsoft Office Specialist
Bookkeeper
Typist
Word Processing Specialist
Records Clerk
Office Assistant
Microsoft Certification – Paid for by CD-ED
Getting familiar with Microsoft Office is a big part of your Office Administration with Social Media training. As you complete each Microsoft Office-based module, you'll feel fully prepared for the corresponding Microsoft certification test. Plus, you'll receive a voucher from CD-ED to cover the cost of the exam.
About Distance Education & Learning Online
At CD-ED, you will get all the same college-quality practical training and knowledge, without the strict schedule, costly commute or rigid lesson plans of traditional learning.
But it's not right for everyone.
Online Learning requires discipline and time management skills. You will be required to devote 20 hours per week to this program.
Office Administration with Social Media Program Curriculum
Duration: 52 Weeks, 1060 Hours
(based on a 20-hour work week, with the exception of the practicum as it is a 40-hour work week)
| | | | |
| --- | --- | --- | --- |
| Weeks | Hours | Code | Module Subject |
| 1-2 | 40 | STU 101 | Essentials of Student Success |
| 3-7 | 95 | COC 104 | Microsoft Word |
| 8-11 | 76 | MAT 106 | Microsoft Excel |
| 12-14 | 57 | COC 301 | Microsoft PowerPoint |
| 15-15 | 19 | PUB 101 | Microsoft Publisher |
| 16-20 | 95 | COM 300 | Business Communication for the Digital Workplace |
| 21-21 | 19 | SMM 200 | Writing for Social Media |
| 22-25 | 76 | SMM 100 | Social Media Marketing |
| 26-26 | 19 | COM 102 | Filing |
| 27-33 | 133 | MAT 220 | Basic Bookkeeping |
| 34-37 | 76 | MAT 221 | QuickBooks |
| 38-46 | 171 | BUS 101 | Administrative Procedures |
| 47-50 | 76 | PRO 200 | Professionalism & Ethics |
| 51-51 | 19 | OHS 100 | Occupational Health & Safety |
| 52-52 | 40 | OPR 100 | Practicum (Simulated) |
| 1-52 | 49 | COC 105 | Keyboarding (runs concurrently with program) |
The best way to see if the Centre for Distance Education is right for you is to contact an admissions representative. Get more information about career opportunities, our programs, and financial aid options. Get more info now >>
Required for Enrollment: All applicants must have a high school diploma or equivalent prior to enrollment. For any questions about eligibility, please call 1-866-446-5898 to speak with a knowledgeable CD-ED Admissions Representative.
Online Services & Community Learning
As a CD-ED student, you may be learning at home – but you are far from on your own! Our student website ensures that you'll never feel alone, with access to course-wide discussions, live chats and a private messaging system that allows you to interact with as many (or as few!) fellow students as you wish. Plus, you will have weekly interaction with your instructors.
Convenient Online Learning Platform
Instructor Support
Online Access to Resources
Industry Software & Materials
Is Online Office Administration Training Right for You? Get More Info…
If you're interested in learning more about a career in Office Administration with Social Media and to explore whether online distance education is right for you, fill out the form on this page to receive more information or take our online career training readiness quiz!
A helpful CD-ED Admissions Representative will be happy to answer any questions and can help with everything from career paths to financial aid.
For immediate questions, give us a call at 1-866-446-5898