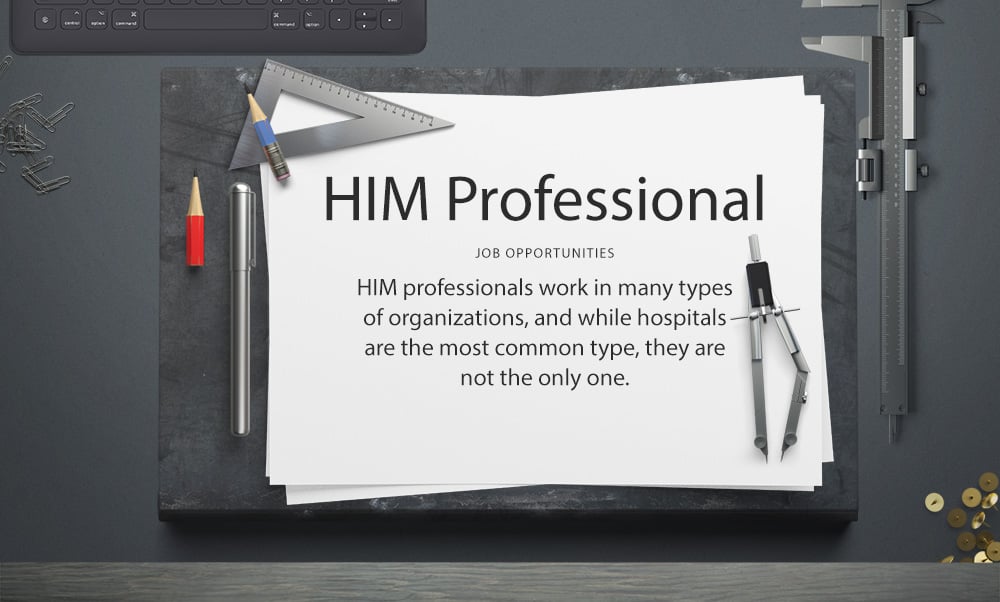 One of the biggest misconceptions in the Health Information Management (HIM) world is that graduates can only work as 'coders' in hospitals. While working as a Classifications specialist is a highly specialized and in-demand role in health care, there are many other opportunities for the certified HIM professional besides coding.
What else can a HIM professional do besides coding?
Release of Information/Privacy.
There is a lot of health information everywhere, from your family doctor's office to the Government of Canada.
Think of it! Your health data is collected every time you:
visit the dentist,
fill a prescription at a drug store,
have a baby,
see the optometrist,
fill in an organ donor card,
take out travel insurance,
download and using health monitoring apps,
go to a public lab for blood testing, etc.
So who is looking after it?
Who is implementing protocols to protect your information whether it is on paper, or electronic?
The HIM professional!
Working with IT and legal/risk professionals, the HIM professional is working to protect your data from unauthorized access, from tampering, release or disclosure. And of course, the HIM professional is also working to make sure that those who should have access, do. There are a lot of nuances in understanding information privacy, and the HIM professional is trained for this role, whether it is in releasing your information to your family doctor or providing aggregate data on all births and deaths to the government.
Electronic Health Records.
There are many advances in technology – in the 'old days', all hospital documents were paper, and to send information to another hospital required copying and sending it via courier.
With the advent of newer technologies, the way data is collected, stored and analyzed is rapidly and constantly changing. Now information can be emailed directly from a device, uploaded to the 'cloud', saved to a USB key, tracked by the user on wearable devices, or just stored on one system that is securely connected to another system. All this data is zooming everywhere – and HIMs are managing the information.
To do this effectively, developers and vendors of electronic health information systems hire HIMs to work with them as HIMs understand the data, while the IT professionals understand the technology. HIM professionals train both those people who enter the data as well as those using it. HIM professionals know who is collecting what, how, why, and where, and can provide the guidance on collecting, using, storing, and destroying electronic health information.
Understanding the health of Canadians.
Did you ever wonder how the government knows the number of surgeries performed in a year, or the average wait times for surgery, or the types of illnesses within a community or province?
Aggregate (that is, summarized data) relating to the health of the population are provided to the provincial governments (or their agencies). This data comes from the work of HIM professionals at the hospital, but HIMs in the government are 'translating/explaining' that data, showing what it means, trending it over time, identifying anomalies, etc. All of this is possible because of the HIM professional who understands the data and can translate numbers into something meaningful.
Research
The knowledge and skills of the HIM professional can be seen in roles that blend professional, clinical, and research skills with knowledge of business operations and insight into management of information systems. With skills acquired through education coupled with education, in statistics, epidemiology, technology, and understanding information flow, the HIM professional is a natural to assume roles in health research. Decisions by governments, or by individual clinicians, should be based on credible information or evidence. This comes from data that can be gathered from many sources, managed appropriately, and synthesized to produce knowledge. The HIM professional is able to participate in all of these areas.
Train for a Health Information Management Career
HIM professionals work in many types of organizations, and while hospitals are the most common type, they are not the only one. And for HIM professionals working in hospitals, there are many other roles – not only 'coders'. For more information, check out the HIM Program and find out about registering at  the Centre for Distance Education.