Health Information Management Grad Jordan Bassett Receives International Acclaim for her Final Project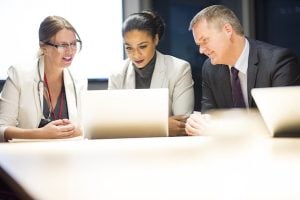 The CD-ED Health Information Management program is top quality, arming graduates with real-world experience and in-depth technical knowledge, with the convenience of online learning.
Health Information Management graduate Jordan Bassett is proof of this. She wrote a research essay that was recently selected to be featured in an industry publication from the International Society for Telemedicine & eHealth (ISFTeH).
The Centre for Distance Education's Health Information Management program requires a self-directed research project as part of the 2-year online program.
The research project takes place at the very end of the program, once students have studied:
• Basic anatomical systems
• Medical terminology
• Health data classification
• Health information law and ethics
• Informatics course, and
• Completed 2 on the job placements
Armed with technical working knowledge and aided by professional instructors who have years of industry experience, Jordan set to work completing her research assignment (and commencing her program).
All of that hard work paid off! Jordan's paper, entitled "E-Prescribing: An Important Part of Medication Safety" was accepted for presentation by the Selection Committee at Med-e-Tel 2017, taking place on April 5–7, 2017 at the Luxexpo Exhibition and Congress Center in Luxembourg.
Jordan is, quite understandably, very happy about this news, and shared this with us: "Thank you all so much. Chandrika and Sandra both did an amazing job in helping me … I feel very honored to represent the school for this presentation."
Congratulations Jordan on a job very well done! We are proud to have her as a student and wish her all the best with this endeavour and in all her future projects.